Opening times . . .
Friday
10.30pm till late

Saturday
10.00pm till late

Occasionally we may open later if everyone is going bananas and won't let the DJ out of the box unless he saps them of all their energy reserves!
Dress code, do we have one? . . .
Simple, we don't have one! We don't believe in them. You should be able to come and have a great party dressed how you want. That's not to say that people don't dress up, the key point I think is, that our customers are real, down to earth people, they don't care what you are wearing and will not stare you out and judge you by your appearance (if they did we'd boot em out!). People come here for the music and the company of like minded others, not to see what's in the spring collection of Mr and Mrs Nobody!
Prices . . .
Friday
Free admission

Saturday
£5.00
For group discount email funkyfishclub@newmadeirahotel.com
Age policy . . .
We are an over 18's venue and welcome all ages who are out for some great music and good times.

Since the licensing law changed recently, anyone who looks even close to being 21, will be asked for ID. Passport or driving license or some of the Government approved ID's will be all that is acceptable.

Please do not take a chance on this, our local licensing Police are very stringent on this and we must be also. Many people also ask us if they will feel 'out of place' coming here, to which we simply answer NO! This club is all about people and music, there is no ageism here, we have many groups and individuals even up to 50 - 60+ who come here and have a ball, our music is for all who want to enjoy it!
The music we play . . .
We have a hugely unique music policy, we have bridged the gap between serious, up their own arses, funky music clubs and general party clubs.

We play Funky music from 4 decades, Funk, Soul, Jazz, Motown and Old School Breaks.
Night Clubs in Brighton or anywhere just don't seem to have the know how, or the balls to do what we do! Soul in Brighton, Funk in Brighton, Jazz in Brighton, Motown in Brighton, Old School Breaks in Brighton, Funky 60's 70's, 80's & 90's in Brighton – It's all here at the Funkyfish.
Location . . .
The Funkyfish Club is on the corner of the New Madeira Hotel, 19-23 Marine Parade, Brighton BN2 1TL.
If you had your back against Brighton Pier, looking inland, we are 300 yards up the slight hill, to the right. 2 blocks up from Audio Club.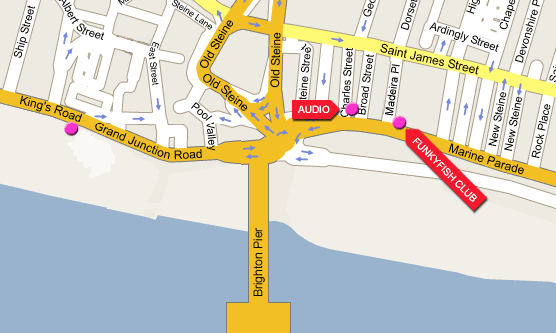 Works night out . . .
Are you planning a mass gathering of employment related alcohol consumption??? It's enough to send you to an early grave!, So many different types of people. All wanting different things. You want to go to somewhere that'll be a great party, but don't want to follow the young, towny, herd! You need a club that has a happy blend of all ages. Where you can all let your hair down. Get a personal, friendly touch from the staff, get in cheap, or even FREE? Not have to re mortgage to buy a drink! And maybe have some free bubbly thrown in? And dance to some of the greatest music on the planet!

Whatever you want from a works night out, we have the venue, experience and family run approach to make it great.

Call us to make your arrangements on 01273698331 or email here: Funkyfishclub@newmadeirahotel.com
Staying Over . . .
If you can't face the journey home then book a room at:

www.newmadeirahotel.com

Or call on: 01273 698331.
Private hire . . .
Our facilities here are hugely varied, not only can we offer the Club as a venue but our Hotel, the New Madeira, has many function rooms attached also.

From Birthday parties to conference meetings, Weddings to band nights, we will more than likely have what your function needs. Please don't contact our club staff for private functions, instead call our Events team on 01273 698331 or email: Funkyfishclub@newmadeirahotel.com