Hen Nights for 2011 - 2012 . . .
Not only do we pride ourselves on playing the greatest music on the planet, Soul, Funk, Jazz, Motown, Old School Breaks, Funky 60's 70's, 80's, 90's and a splash of 'now'. we also have a reputation for being the most hassle free club in the City.

You see, all the blokes who come to our club, generally, come for the music, which makes for a great, stress free, no putting up with idiots environment for a great girly night out. Many of our loyal regulars were 1st timers from hen nights who had such a scream that they are now totally hooked on our unique music and unpretentious venue!

Before commencing with your enquiry we do ask that you do do your homework on the club, especially the music we play.. Have a good poke around this site, download the mixtapes, get the rest of your group to do so to, many groups may come here expecting to hear cheesy music, R&B or house because they have not checked properly, it can be devastating for a hen group to be sat in a corner miserable because they can't hear their favourite songs. If you are after a night of cheesy chart music, R&B, House then we will not be the best place for you to party, However, if you are looking for a really great, unique, funky night with loads of Soul, Motown, Funk, Rare Groove, Soulful Disco, and generally funky music from four decades then this is the place for you.

If and when you decide to join us, Your bride to be will enjoy free admission to the club. The rest of your party will pay the normal admission rate. However we realise that hen parties often go for meals etc before arriving and the last thing you want to do is stand in our huge queue, so will give you guaranteed front of the queue express admission until 11:00 p.m.

This offer is only available by prior arrangement by e-mailing us on Funkyfishclub@newmadeirahotel.com or by calling on this number: 01273698331

In the case of large parties we will ask you to help up speed up our admission process by having your admission money ready so we can get you straight in.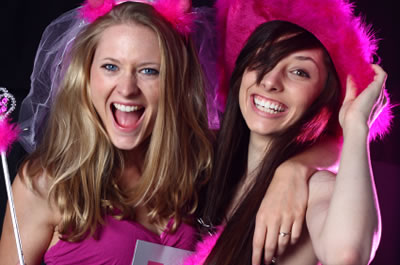 HEN NIGHTS IN BRIGHTON
EVERY SATURDAY @ THE FUNKYFISH CLUB, THE DREAM BOYS SHOW!

THE DREAMBOYS SHOW
Every Saturday Evening (6.30pm to 9.30pm) At The Funky Fish Club In Brighton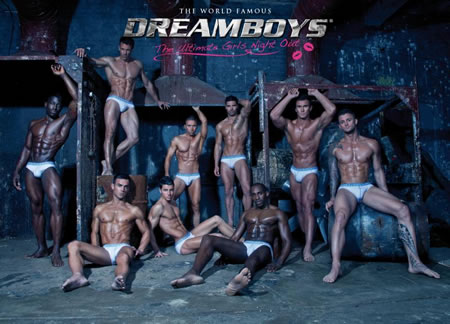 The Dreamboys are without a shadow of a doubt the UK's top male glamour show, perfect for a girls night out with your friends. Their showcase is unquestionably the most famous male stripper act the UK has ever produced. With special guest appearances on massive TV shows such as The X Factor, Britain's Got Talent, Celebrity Big Brother, Pineapple Dance Studios, Loose Women, This Morning and The Only Way Is Essex, The Dreamboys have earned themselves the only male strip group in history to have celebrity status.

If you're looking for the very best hen night or girls night out in Brighton, then look no further then these incredible stripping hunks. An action packed 2 hour Show from start to finish, these boys will literally have you begging for more!!!

This is one action packed night of Music, Muscle, Magic and Mayhem that will leave you breathless which you simply cannot afford to miss!!!
Your Ticket Includes:
The UK's Most Famous Male Strip Show The Dreamboys
One Of The UK's Top Hilarious Drag Queens Performing Live
The Most Televised Strippers In The UK Performing Live
Free Complimentary Cocktail Reception Upon Arrival
Free Buffet Dinner
Seating For You And All Your Friends
Free Photo Session With The Dreamboys
Meet & Greet With The Dreamboys After The Show
Free Dreamboys Calendars
Free Dreamboys Sash For Your Hen Queen Or Birthday Girl
Free VIP Night Club Entry 10pm Till 3am
The Very Best Prime Location In Brighton
Book your Tickets NOW girls before it's to late!!!
For more info on The Dreamboys Show In Brighton and to book your Tickets, visit there website now at: http://www.dreamboys.co.uk
Lady La Rue performs at the Funkyfish Club every Saturday evening (The Dream Boys Show)
Stag Nights for 2011 - 2012 . . .
One of the contributing factors to our success is our strict control on the door of male groups.

We do admit groups of guys, If you wish to come and join us I can say only this, our door team are very proficient at spotting a potentially problematic group, on the same strength, they are equally good at letting in groups of clearly nice guys. So if you have any doubts about any members of your party I would suggest you put some thought as to whether you will try and come, but if you are 100% convinced that a door team would look at your group and perceive that you are all good blokes just out for a a great time then try by all means, bear in mind also that entry may depend on how the male female ratio looks at your time of arrival.

If you are convinced you are all good guys out for a good crack then I would suggest you arrived before 10.30 to allow yourself time to make other arrangements should you not be allowed in. Also, your entry will be on condition that 2 or 3 of you leave, and sign for, their driving licences or passports for the duration of the evening, they are signed for in front of their owner on CCTV, this is a practise that has the approval of the local authorities and is the number one reason we NEVER have trouble in the club, apart of course from our great vibe! ID's can be collected at the end of the evening or, if forgotten, from the New Madeira Hotel, nextdoor, the morning after.

If you have any questions that have not been answered here, do feel free to get in touch with us and we'll try and put you in the picture as best we can. Thanks again for your enquiry, and we hope to see you soon..
Hen & Stag News . . .

After you are certain that you wish to join us we will then welcome you with open arms and get the dance floor polished ready for your arrival !!!
Let's Party!
The Funky Fish Club